The classic mobile action-RPG, The King of Fighters ALLSTAR, has been available in Japan since July of 2018. Now Netmarble finally brings this game to the West on October 22nd, 2019. Besides playing The KOF ALLSTAR on your mobile device, you can also use keyboard to control your fighters on PC with LDPlayer.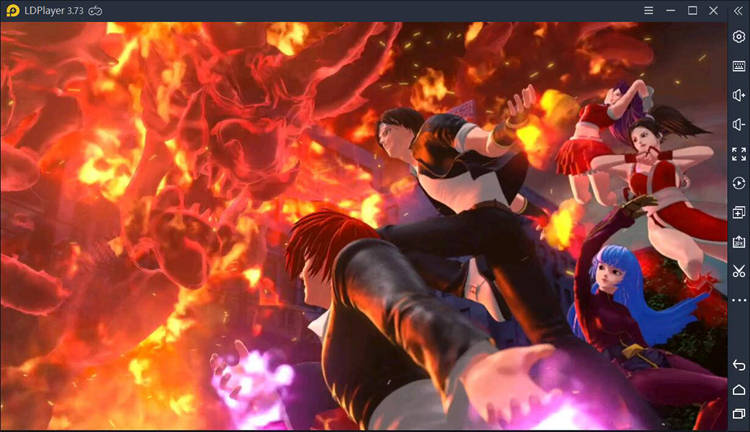 LDPlayer is a free Android emulator that helps you to run most Android games and apps on your computer. In terms of The King of Fighters ALLSTAR, you can take advantage of the keyboard control on your PC and make faster progress than others. More details about LDPlayer at Emulator Guide: How to Run Android Emulator for Windows.
How to Play The King of Fighters ALLSTAR on PC
It's very simple to set up The KOF ALLSTAR on your Windows PC. The below steps will help you download LDPlayer and install the game inside your emulator. If this is your first time to use an Android emulator and you don't know how to deal with some situations during the setup, please contact LDPlayer through Facebook.

STEP 1: Download LDPlayer and run the installer.
STEP 2: Complete the setup and open LDPlayer on your desktop.
STEP 3: Click the search bar and search for The King of Fighters ALLSTAR.
STEP 4: Install the game from the store and wait a few minutes for the installation.
STEP 5: Once the installation completes, just find the game icon and launch it.
STEP 6: Now, you're all done. Start collecting your fighters and make progress!
Though The King of Fighters ALLSTAR is released for mobile, you can still easily experience the gameplay on your computer with LDPlayer. Moreover, the keyboard control helps you to perform combo moves much easier and faster. So, before you start your tournament, remember to set a custom keymapping for your fighters.
Set Keymapping for The King of Fighters ALLSTAR PC
LDPlayer is definitely a new way of playing The KOF ALLSTAR. You can have a better visual of the fighting on your bigger screen and a smooth control with your keyboard&mouse. Thus, setting a keymapping for your fighters is the very first step to enable the keyboard control.
Step 1: Launch The King of Fighters ALLSTAR first
Step 2: Click the little keyboard icon on the toolbar to enable the setting panel
Step 3: Drag the command key from the list to remap the control
Step 4: Click save to apply the new keymapping
Remember to map keys for your striker attack and teammate switching, which are very useful when making a combo strike. If you're not familiar with the command list, read this post to get help: Keymapping on Emulator - How to Use Keyboard Mapping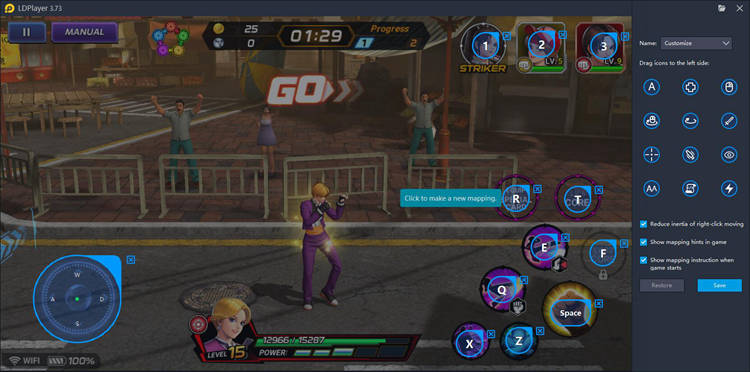 4 Beginners Tips for Playing The King of Fighters ALLSTAR on PC
Follow the Growth Mission
No matter you are a beginner or a long-time player, you will need to follow the growth missions to unlock more chapters. This is where you begin to get more familiar with the plots, fighting modes, and the gameplay. More importantly, you will get most rewards including a selector ticket, gems, and others that help you go through the transition.
Pay Attention to Stronger Fighters
It would be much helpful for your team build if you cultivate a high-scored fighter from the beginning. If you're rerolling, you will want to get characters highlighted as they have scores above 90. Below is a list of fighters who scores above 90 based on a JP review.
| | | |
| --- | --- | --- |
| Character | Year | Score |
| Kyo Kusanagi | 95 | 94 |
| K' | 99 | 91 |
| King | 94 | 93 |
| Mai Shiranui | 95 | 93 |
| Yuri Sakazaki | 95 | 91 |
| Chizuru Kagura | 96 | 90 |
| Ryo Sakazaki | 96 | 90 |
| Shermie | 97 | 92 |
| Kyo Kusanagi | 98 | 91 |
Make Your Selector Ticket Count
You'll be given a Fighter Selector ticket after you finish chapter one. The ticket will guarantee you a five-stars fighter from an acquisitions list. As mentioned above, you should select a strong one and this is your free chance. The recommended choices for selector ticket below are going to help you pick faster and smarter.
Mai Shiranui ('95)
Mai has a great leader skill which boosts the Attack and HP of all Attack type characters by 25%. This gives you an extra boost in attack. Her leader skill is also not restricted to a specific type, which means you can have a team with different character types to deal with different stages.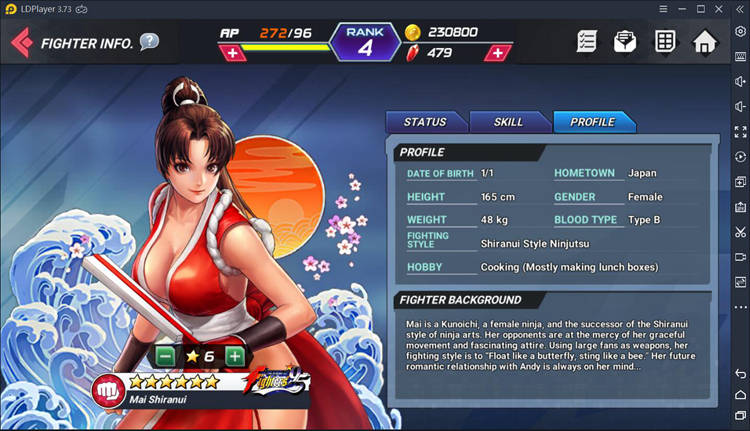 Kyo Kusanagi ('98)
A typical DPS character, Kyo has significant attack stats and his skills deal a good amount of damage. Despite his seemingly rude and arrogant demeanor, he has an innate gift for fighting. As you increase his core effects, Kyo has a chance to apply a burn to enemies on crit hits.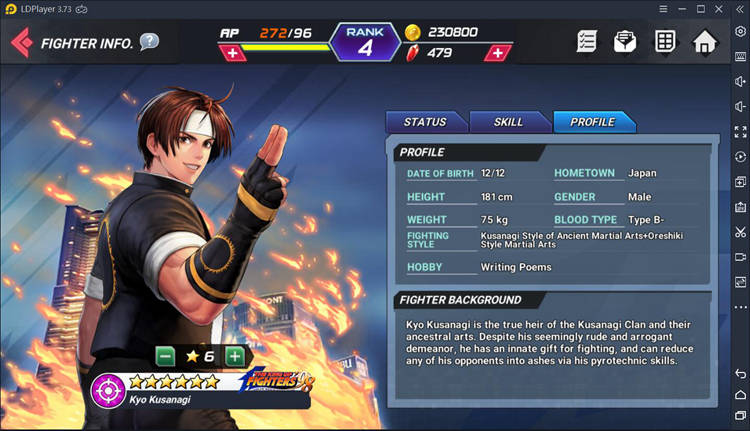 Other Selector Choices
| | | |
| --- | --- | --- |
| Character | Year | Score |
| King | 94 | 93 |
| Yuri Sakazaki | 95 | 91 |
| Chizuru Kagura | 96 | 90 |
| Ryo Sakazaki | 96 | 90 |
| Shermie | 97 | 92 |
Of course, if your priority is your favorite characters, then just do it and you still make the ticket worthy.
Use your Resources Efficiently and Practice Your Skills
Once you know which character you want to build, you will put most resources on him/her in order to enhance the stats. But it takes time to gather materials so you definitely don't want to waste them. Also, you should seize every chance to practice your combo skills during the battles so that you can kick someone's ass on the match. You'll have much more fun with the fighting.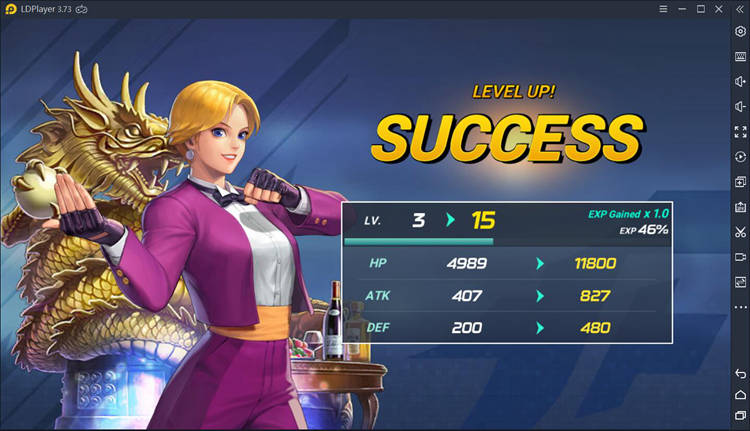 Conclusion
LDPlayer is one of the best choices for playing The King of Fighters ALLSTAR on PC with keyboard and mouse. You can enjoy the superb PC gaming experience when fighting your opponents. Now download the latest version of LDPlayer and join the tournament of The King of Fighters ALLSTAR!