War Robots is an action-packed multiplayer game developed and published by the Russian game developer Pixonic. It is the biggest robot shooter game with 6 vs. 6 team battles in real time. Players can take control of up to 48 battle robots with different strengths in a live battlefield. They either have the option to play solo or team up with other players.
For metal warriors' enthusiasts, many possible combinations of 48 robots and 50 weapon types will bring you the most exciting robot battlefield. If you want to free from phone limitation with bigger screen and longer duration, you can choose the powerful emulator LDPlayer to run it on PC.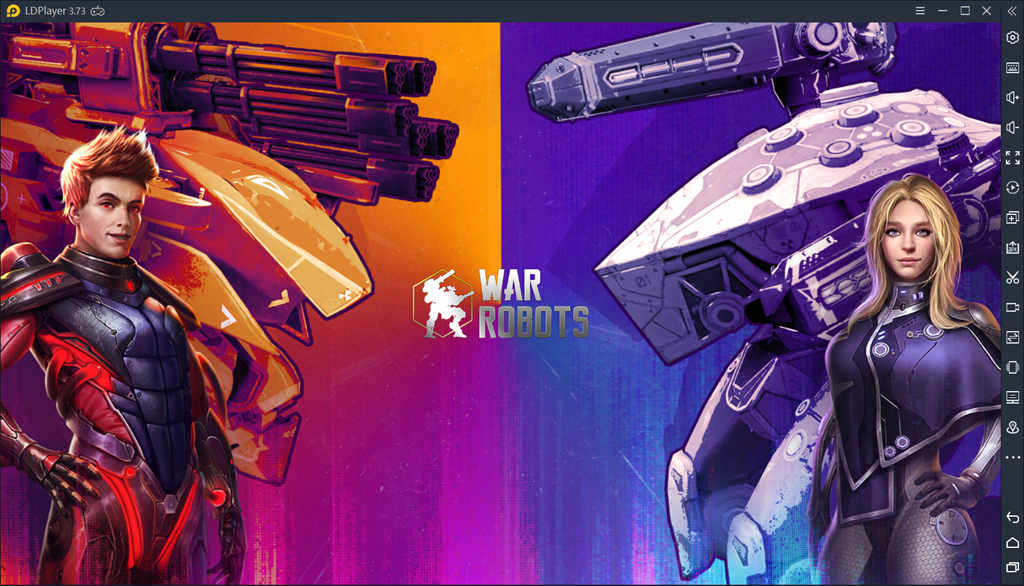 How to Play War Robots on PC with LDPlayer
Though War Robots is not released for PC, you can still easily download the game on your computer with an Android emulator. LDPlayer, which is designed to provide the best Android gaming experience on PC, will help your get better visuals and performance in War Robots.

1. Download LDPlayer and run the installer.
2. Complete the setup and open LDPlayer on your desktop.
3. Open LD Store inside the emulator or just go to the search bar where you can search for War Robots.
4. Install the game from the app store, which will take a few minutes.
5. Once the installation completes, find the game icon and launch it on LDPlayer.
6. Now, you're all done. Get weapons equipped and start your brand new adventure!
Ways to Improve War Robots on PC Performance
System Requirements
When you are wondering whether you get ready for PC gaming, you should first check your hardware requirements. Each game has its own standard. If you target at higher and more consistent frame rates, better visual fidelity and higher resolutions, the following recommended PC specs will be a great starting point.
Minimum:
Intel or AMD CPU Processor x86 / x86_64
Windows XP XP3 / Win7 / Win8 / Win8.1 / Win10
Windows DirectX 11 / Graphic driver with OpenGL 2.0
Minimum 2GB of system memory (RAM)
Minimum 36GB of free hard disk space
Hardware Virtualization Technology (Intel VT-x/AMD-V) enabled in BIOS
If you don't know how to enable VT, follow this Simple Steps to Enable VT on Your Computer.
Recommended:
CPU: Intel i5 7500
RAM: 8GB
Disk Space: 100GB
Graphics Driver: NVIDIA GeForce GTX 750 Ti
Update LDPlayer to the Latest Version
If you find some lags in loading or gaming process, the problem may rely on the version of your emulator. You should make sure that LDPlayer is the latest version. On the homepage, please click "check for update" in the menu, if it is the latest version, the problem will be solved by reinstalling the emulator. If it is not, you can start the update directly.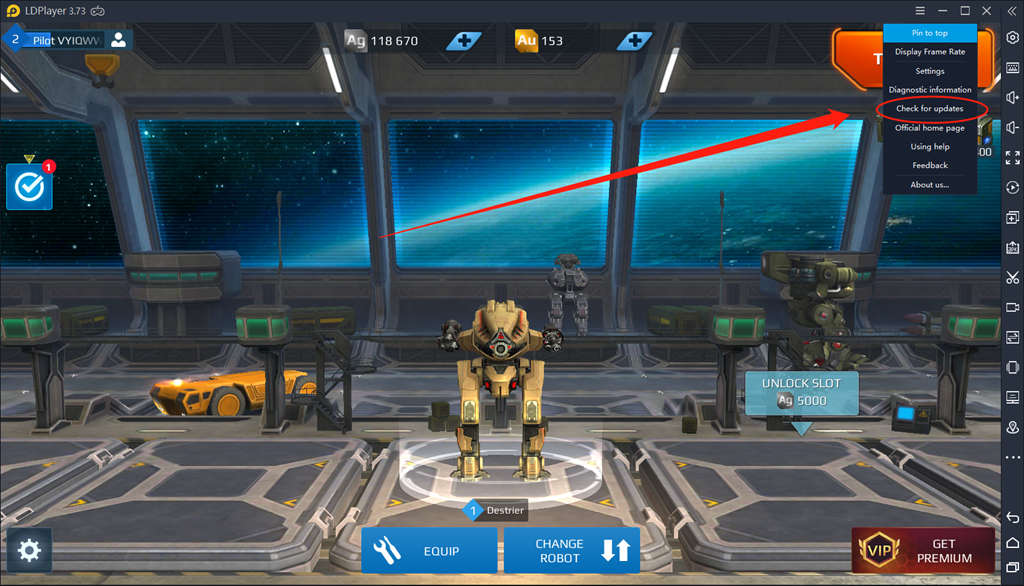 Enhance Your Graphics Card
When it comes to your computer's performance, graphics card is a major factor at work. You can try to upgrade your graphics drivers or change the graphics card settings of system to strengthen the function and run the game more smoothly.
More guide to help you achieve a better performance at Top 5 Ways to Fix Lags in Android Emulator
General Tips of Playing War Robots
1. All players start the game with a level 1 Destrier. Don't be tempted to purchase another one. There will be many robots that are much better available soon enough.
2. Most new players aren't aware of the beacon bar and wonder why they lose. Your goal as a team is to capture and hold more beacons than the other team. The more beacons your team holds, the quicker the other team's beacon bar depletes. If the other team has no beacon bar, your team will win.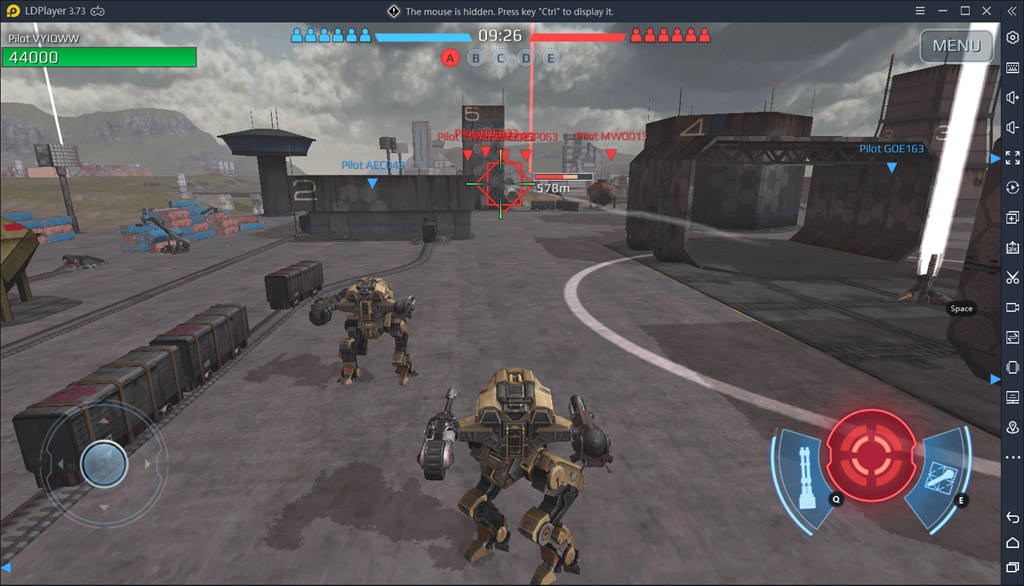 3. It is recommended to purchase a Cossack as soon as you can afford one. This is a very useful robot and will serve you well for a substantial part of the game. It is a fast robot with the ability to jump which makes it a natural choice for beacon capturing.
4. Teamwork is a very important aspect of this game. If your teammates need help, try your best to help them out even it means that you have to sacrifice your energy shield to protect them. In like manner, try not to wade into a situation without backup where you are obviously going to be overwhelmed.
5. Don't upgrade your robots past level 2 until you have upgraded your weapons. Weapon upgrades should always take priority. You should aim to keep weapons at least 2 levels above your robot level.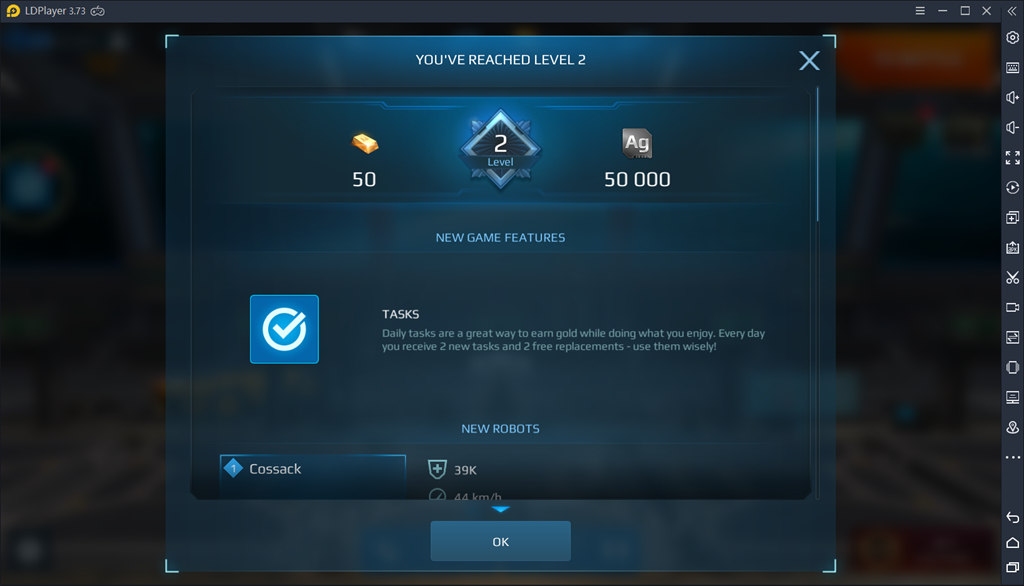 6. Learn to read the maps. Once you know the maps then you'll know the terrain better. First, there are special locations where you can capture a beacon without being on top of it. Second, learn those places where you are protected from enemy fire.
Conclusion
The superb experience of playing War Robots is on PC with a potent emulator, and LDPlayer is the best choice. Not only does it empower you to play any Android app or game right on your computer or laptop, but also give you a better gaming experience among most popular emulators. Download the latest version of LDPlayer and join the ranks of the Metal Warriors! Victory is yours!