Rise of Kingdoms is a mobile MMO real-time strategy game, which requires your wisdom, patience and energy to win the battle. So, to have a better gaming experience, many gamers are finding the way to play Rise of Kingdoms on their computer, which will bring a whole new level to their gameplay.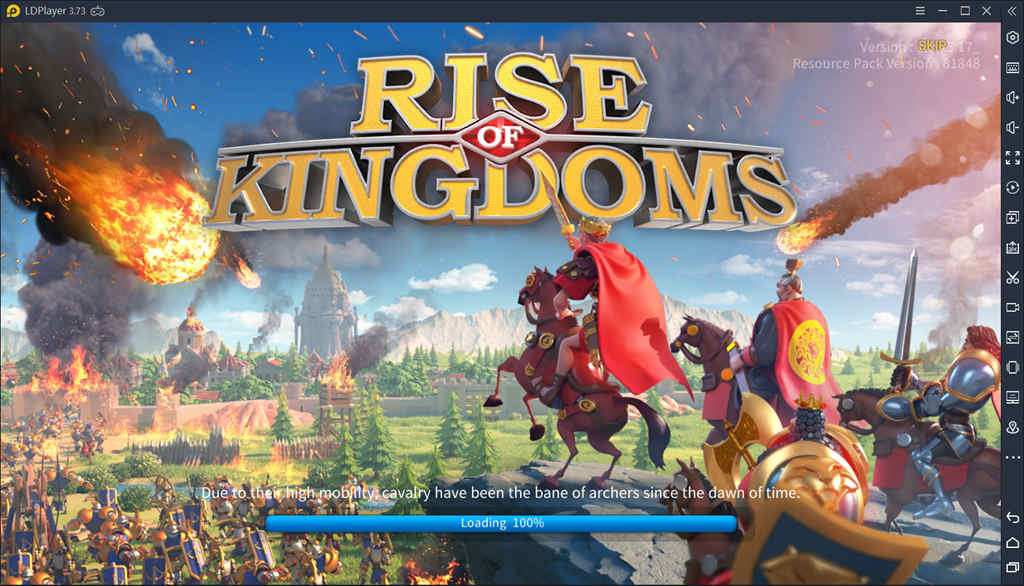 How to Play Rise of Kingdoms on PC
Before you start to play Rise of Kingdoms on your computer or laptop, you should find yourself a stable Android emulator first. Since LDPlayer has been optimized to run Rise of Kingdoms smoothly on most computers, it becomes your first choice. LDPlayer is one of the best Android emulators in the current market available for Windows PCs.
If you want to dig out more info about LDPlayer, read this post: Emulator Guide: How to Run Android Emulator for Windows

▲ Download and Install LDPlayer
It's very simple to install LDPlayer on your computer. By clicking the above download button, you will download a small-size installer. You need to run the installer to download the whole package, which will not take you too much time. When you finished your installation process, you will see LDPlayer and LDMultiPlayer on your desktop.
LDMultiplayer is a multi-instance manager. More details at Multi-Instance on Emulator | How to Use LDMultiplayer Tool.
▲Search Rise of Kingdoms from LD Store
Now launch your emulator and head to LD Store, which is an app store offered by LDPlayer. You need to search "Rise of Kingdoms" in the search box first and head to the download page. All you need to do is click the "install" button to download the game on your Android emulator. By the way, you can also choose "Local Install" which will be easier and faster.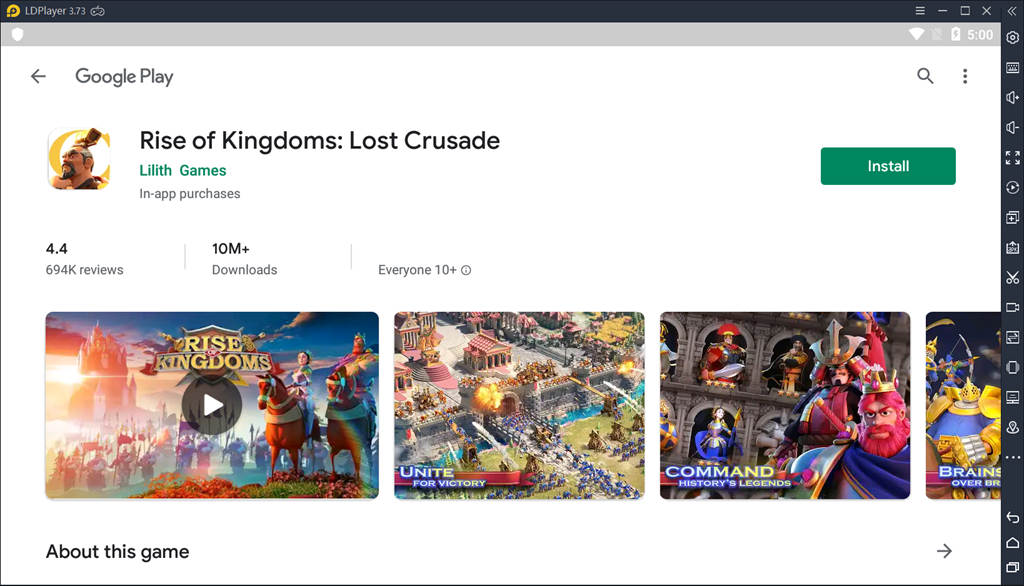 ▲Enjoy Playing Rise of Kingdoms on PC
You can launch Rise of Kingdoms on your emulator screen when all down. It might take a little time to load and extract resources. Once the game has finished loading, you can create or sign in an account to start the journey. Enjoy your new way of playing Rise of Kingdoms on PC with LDPlayer!
Advantages of Playing Rise of Kingdoms on PC
Indeed, playing mobile games on your computer is a new way to enjoy the gameplay. There are many advantages and reasons that drive gamers to make use of their computers. And, featured functions and high performance provided by LDPlayer also attract players to throw Rise of Kingdoms on pc.
Larger Screen for a Better Vision
As we all know, Rise of Kingdoms is a high quality 3D graphics game, which offers stunning views of the gameplay. Compared to mobile screen, your computer screen can maximize the graphic details, especially the excellent map and character details during the gameplay. So, LDPlayer is the first step to move Rise of Kingdoms to your big screen.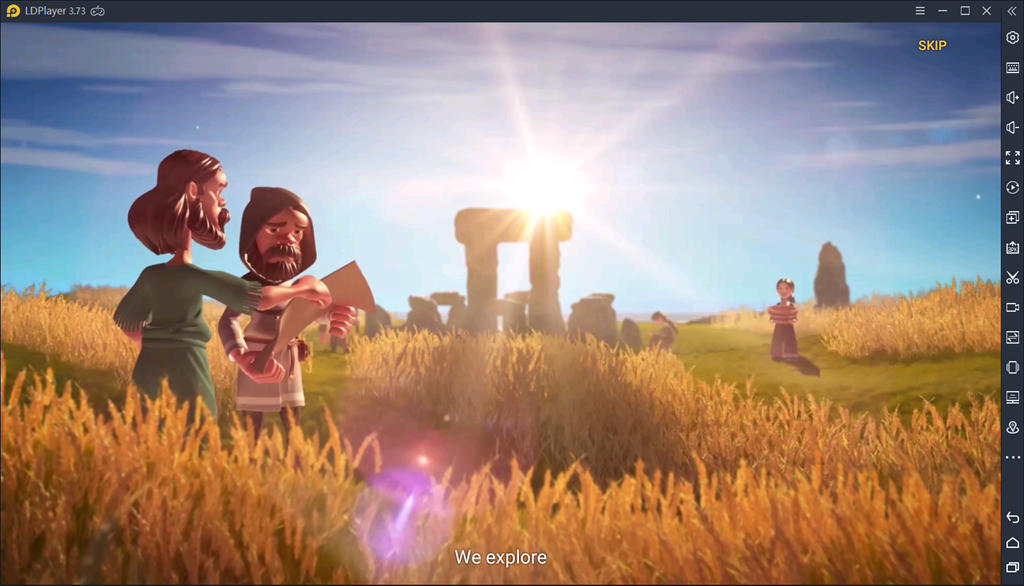 No Lags Running Several Accounts
Though our mobile phones have become more powerful, it's still got a long way to catch up with computer. Most computers can handle running an Android emulator and since LDPlayer has been optimized to be the lightest emulator, we can easily achieve high performance without any lags. This guarantees the multiple instances of Rise of Kingdoms with LDMultiPlayer.
Longer Duration than Your Mobile Phone
In the Rise of Kingdoms, you need to summon heroes and train them. Also, you will need to build your city and develop your troops. It's very important to train units and build alliances to defend your territory. But this also eats your time and consumes your mobile battery. So, using Android emulator to play Rise of Kingdoms on your PC is a better way to play the game longer and release your phone.
Get rid of Overheating and Keep Performing
If we play games on our mobile devices for a long time, the CPU utilization will be higher than normal and trigger overheating. This will influence your gaming performance during the gameplay and might cause damage to your phone. To lower the overheating as less as possible, we tend to use our powerful computers to play Rise of Kingdoms.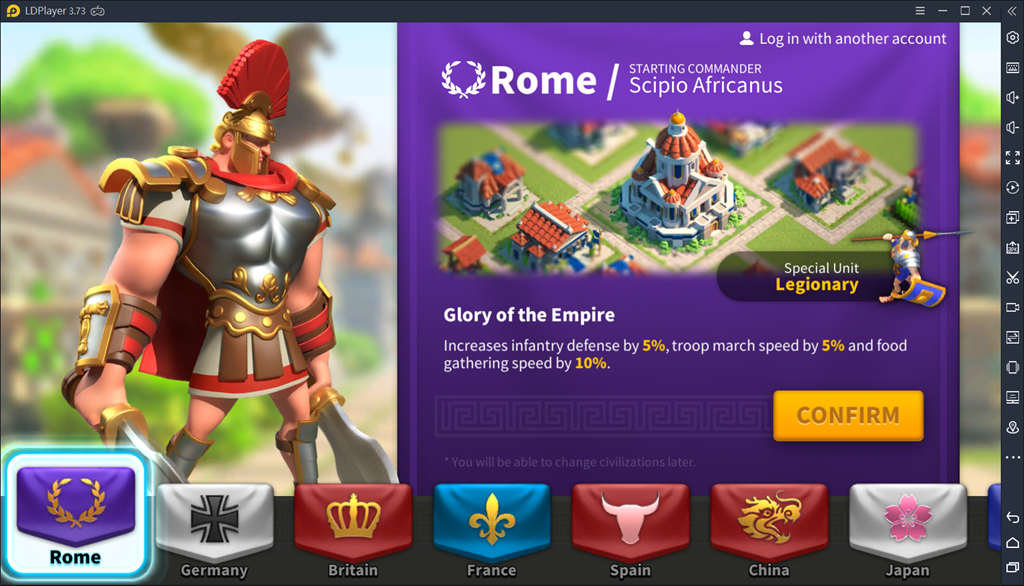 Useful Tools that Might Help You with the Game
LDPlayer contains most features from an Android phone but also develops some useful tools to help with your PC gaming. Using these tools might bring your gameplay to the next level.
Video Rocorder: Record your Highlight Moments on the Battle
One of the benefits of playing Rise of Kingdoms on LDPlayer is that you can record your gaming moments with a built-in video recorder. This might be very helpful if you need to create your own gaming video and share it on social platforms. You can refer to this blog for more details: User Guide – How to Use Video Recorder.
Keyboard Mapping: Create Your Keymapping for Rise of Kingdoms
Unlike touching your mobile screen to control your gameplay, you will be using mouse and keyboard to manage your game on PC. It's very simple to set your customized keymapping for Rise of Kingdoms. You can refer to this blog for more details: Keymapping on Emulator - How to Use Keyboard Mapping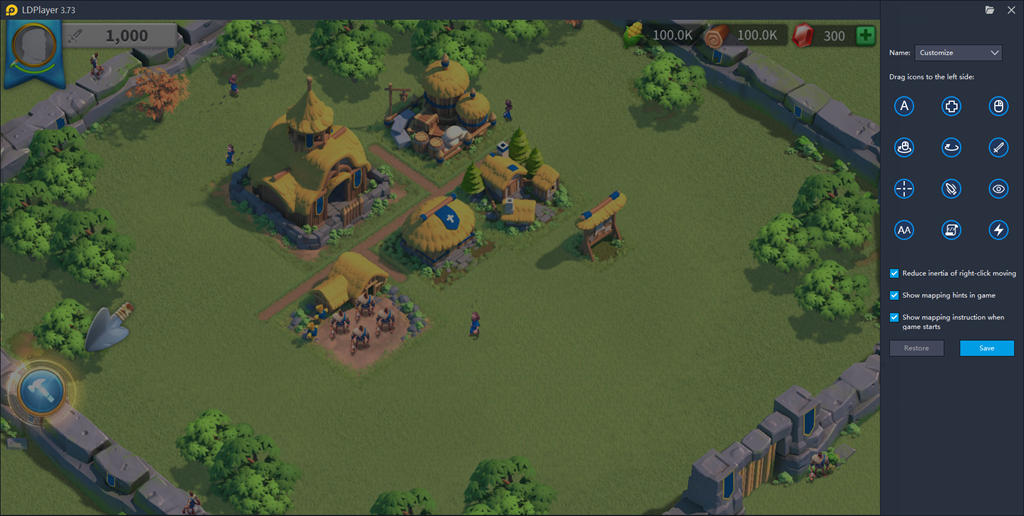 Operation Recorder: Automate Repetitive Moves to Save Energy
LDPlayer has developed a tool called Operation Recorder, which can enable you to write scripts for Rise of Kingdoms. Now, you are able to use LDMultiPlayer to manage your multiple accounts and Operation Recorder to execute auto-farming scripts. This can help you skip some boring missions and grow faster in Rise of Kingdoms. Read: User Guide - How to Use Operation Recorder to Write Script
Conclusion
All in all, a conquering game like Rise of Kingdoms indeed requires tons of patience and consistency in order to develop your towns. That is why you need all the help you can get. So, with featured functions and tools offered by LDPlayer, you can play Rise of kingdoms on pc without any concern.